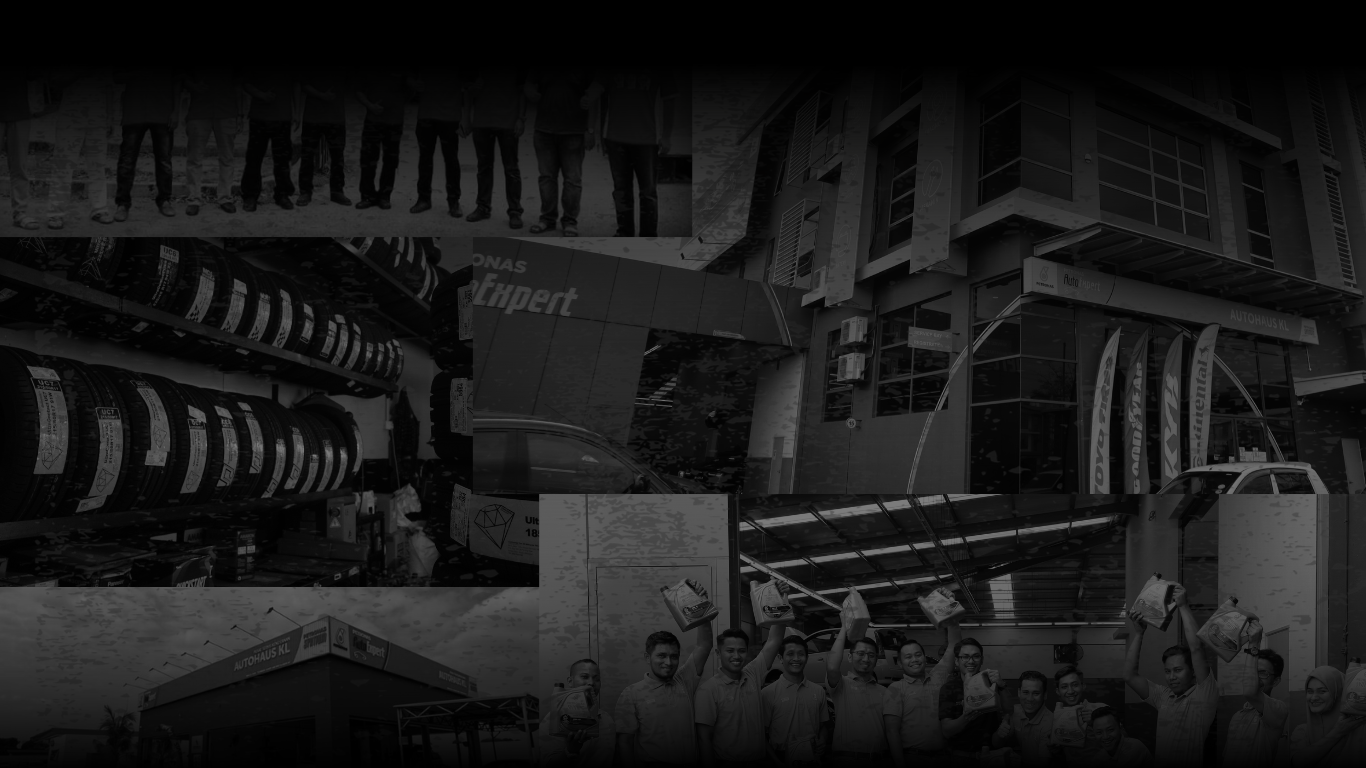 8TH ANNIVERSARY
---
Celebrating 8 Years of Excellence!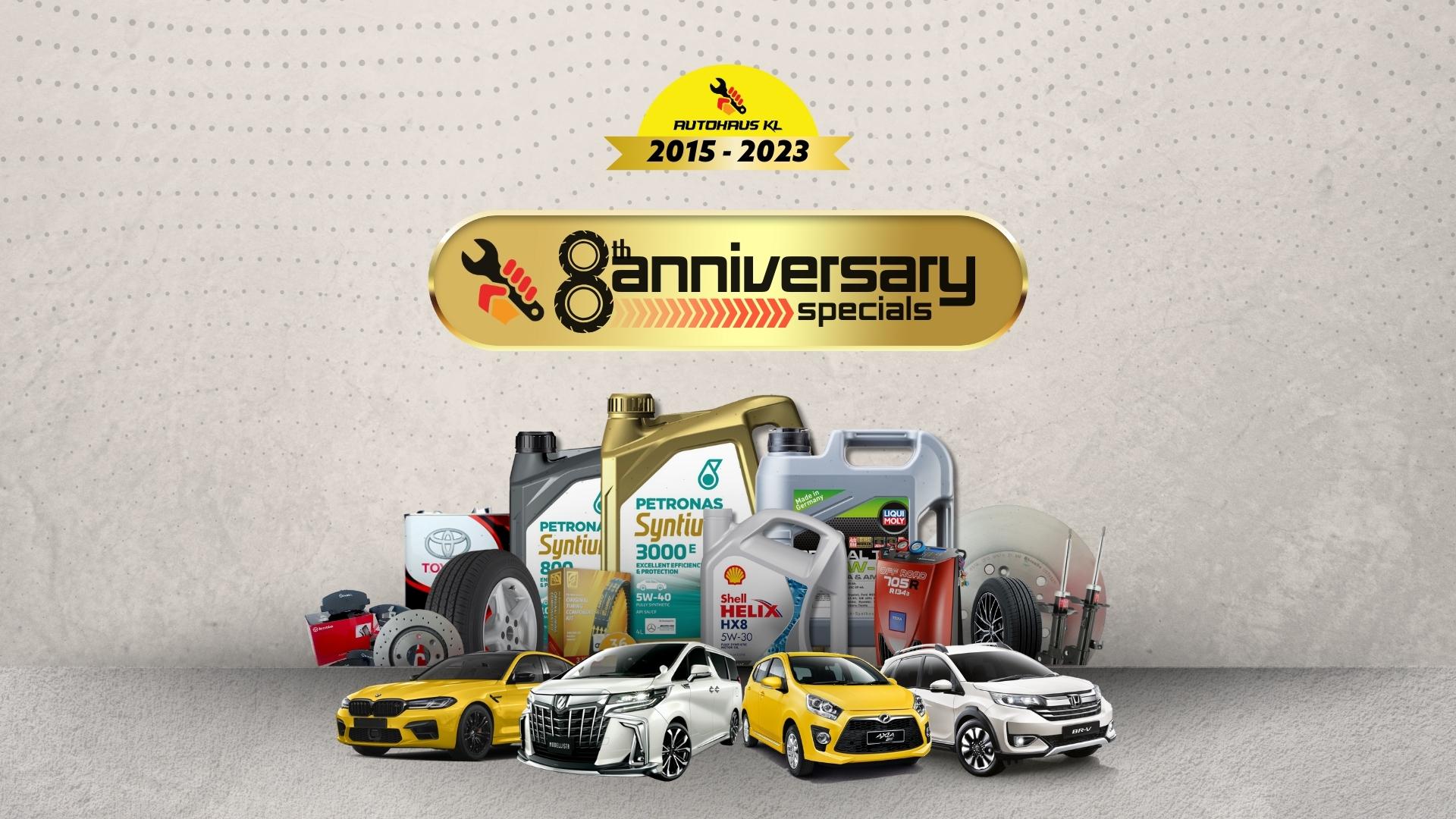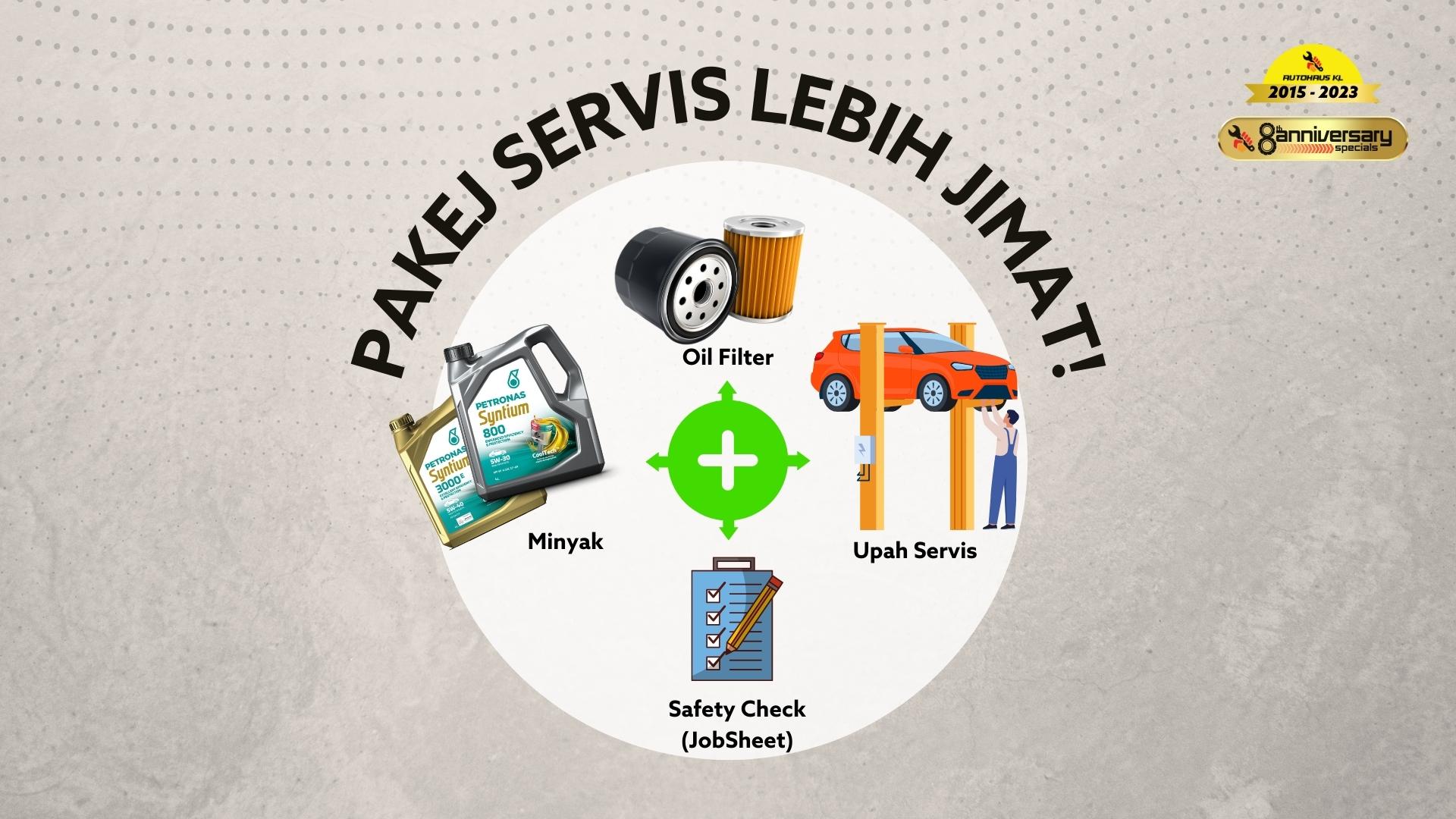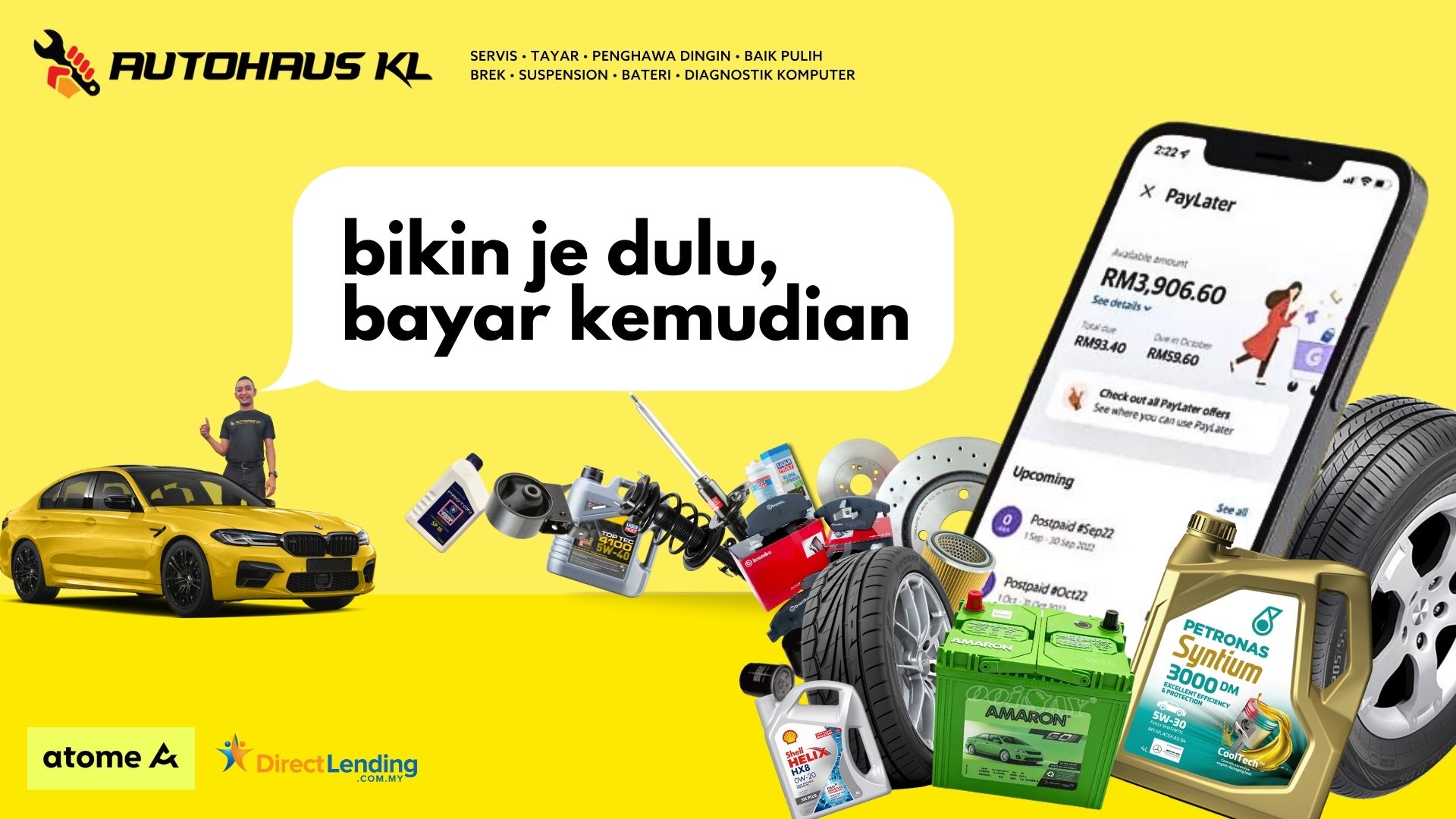 In conjunction of 8 years of Autohaus KL, we sincerely offers Special Offers for all to enjoy savings on engine oil service, air-conditioning, brakes and also selected new tires. Walk-in directly to any outlets.
THIS FRESH DEALS ENDS IN:
SPECAL SERVICE PACKAGES
This promotional package includes Engine Oil, Oil Filter, Workmanship & 30-Point Safety Check! Click the button to explore all engine oil package pricelist.
FULL TIRE LISTS
List of tires eligible during the promotion
*Tires promotional price may change by time subject to availability
TIRE STOCK CLEARANCE
Discount up to 50% for ready stock tires
DISCOUNT
Year 2022 - 10% off
Year 2021 - 20% off
Year 2020 - 30% off
Year 2019 - 50% off
FREE alignment & tire valves with the purchase of FOUR (4) year 2022 tires only.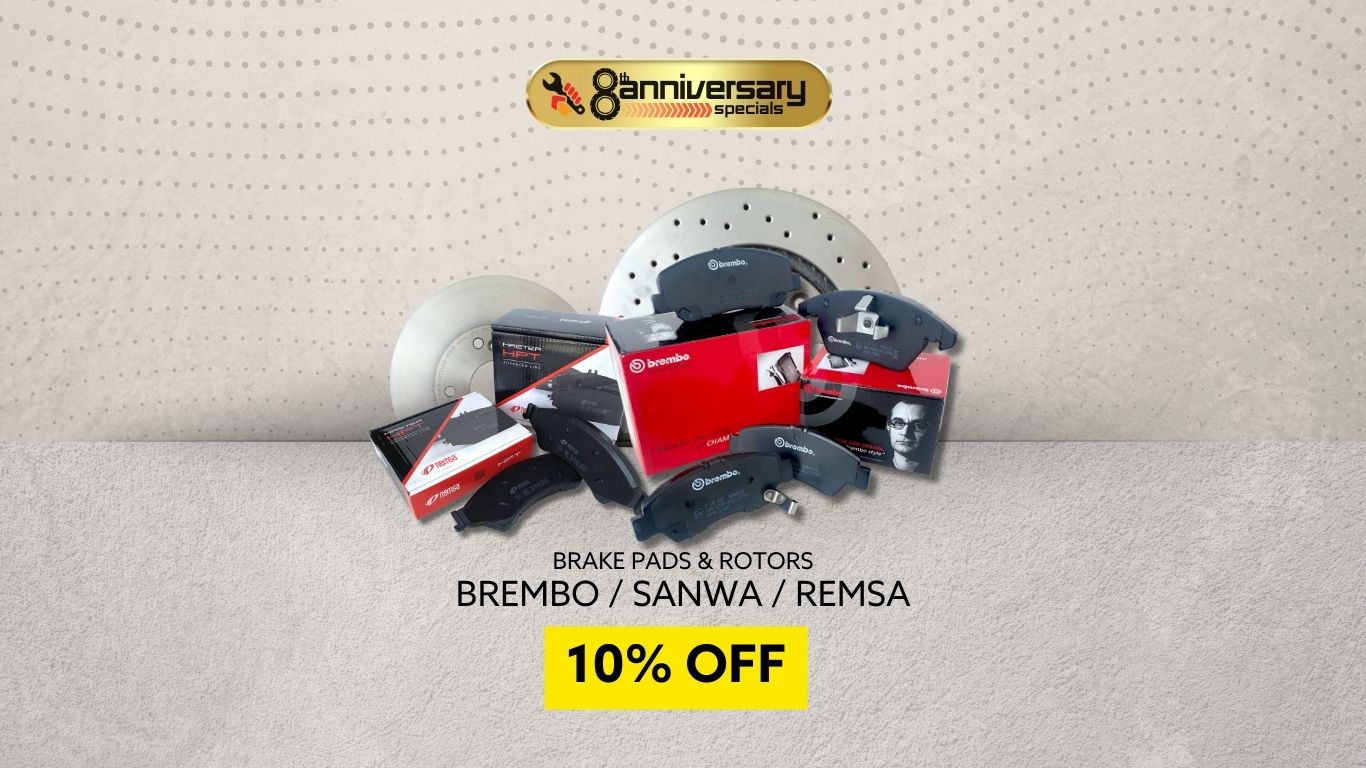 BRAKE PADS & ROTORS
Get 10% discount off brake kit services.
1L BRAKE FLUID SERVICE PACKAGES:
PETRONAS BRAKE FLUID DOT 4
RM88 RMxx
BREMBO PREMIUM BRAKE FLUID DOT 4
RM128 RMxxx
*Only applicable for BREMBO, SANWA, REMSA products only
*Price including workmanship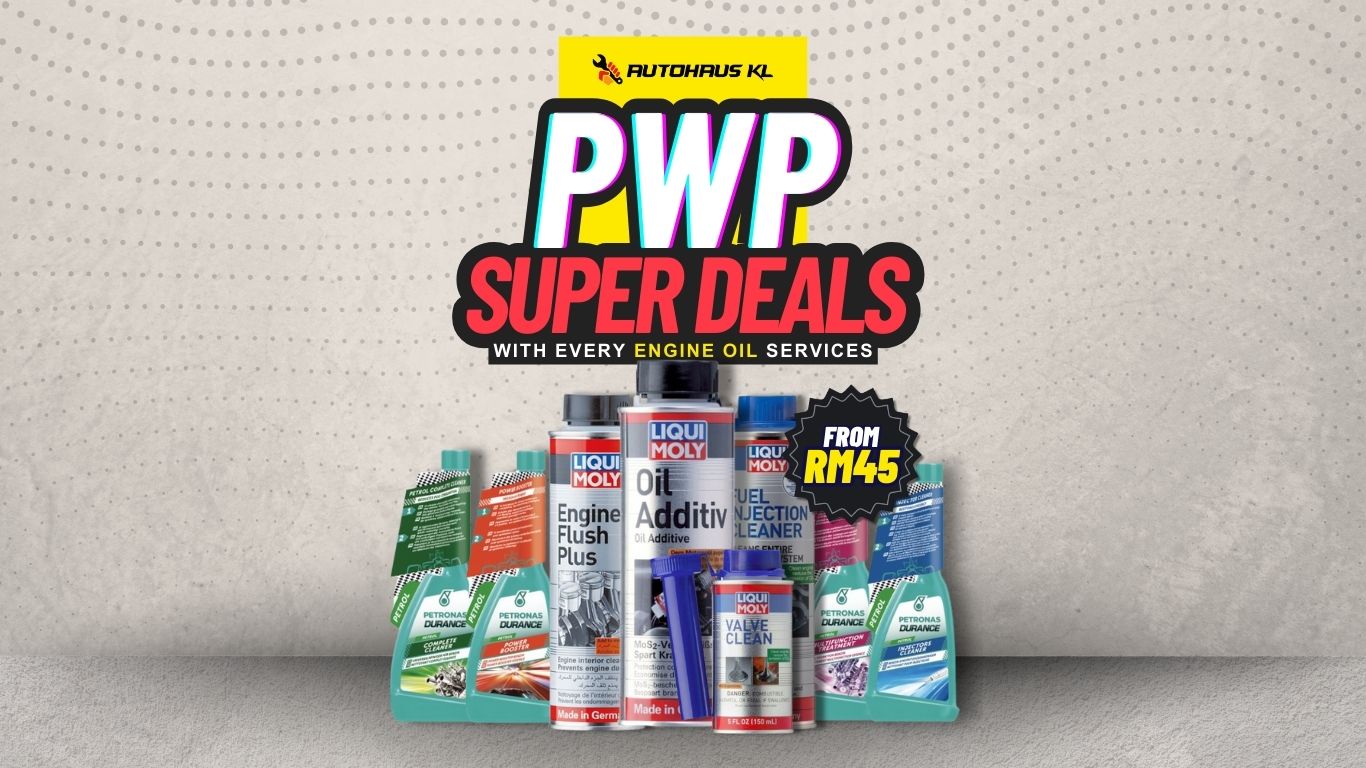 PURCHASE WITH PURCHASE DEALS
With every Engine Oil Services
PROMOTIONAL PRODUCTS:
LIQUI MOLY & PETRONAS ADDITIVES
Engine Flush | Injector Cleaner | Valve Clean |
Additive (MOS2)
All for RM45 RM58 each
LIQUI MOLY THROTTLE BODY SERVICE
RM88 RM120 per service
LIQUI MOLY 3IN1 ADDITIVES
RM125 RM188
LIQUI MOLY JETCLEAN TRONIC ENGINE DE-CARBON SERVICE
2L RM388 RM500
1L RM248 RM250
WIPER (10% OFF)
Bosch | Wurth | Autobacs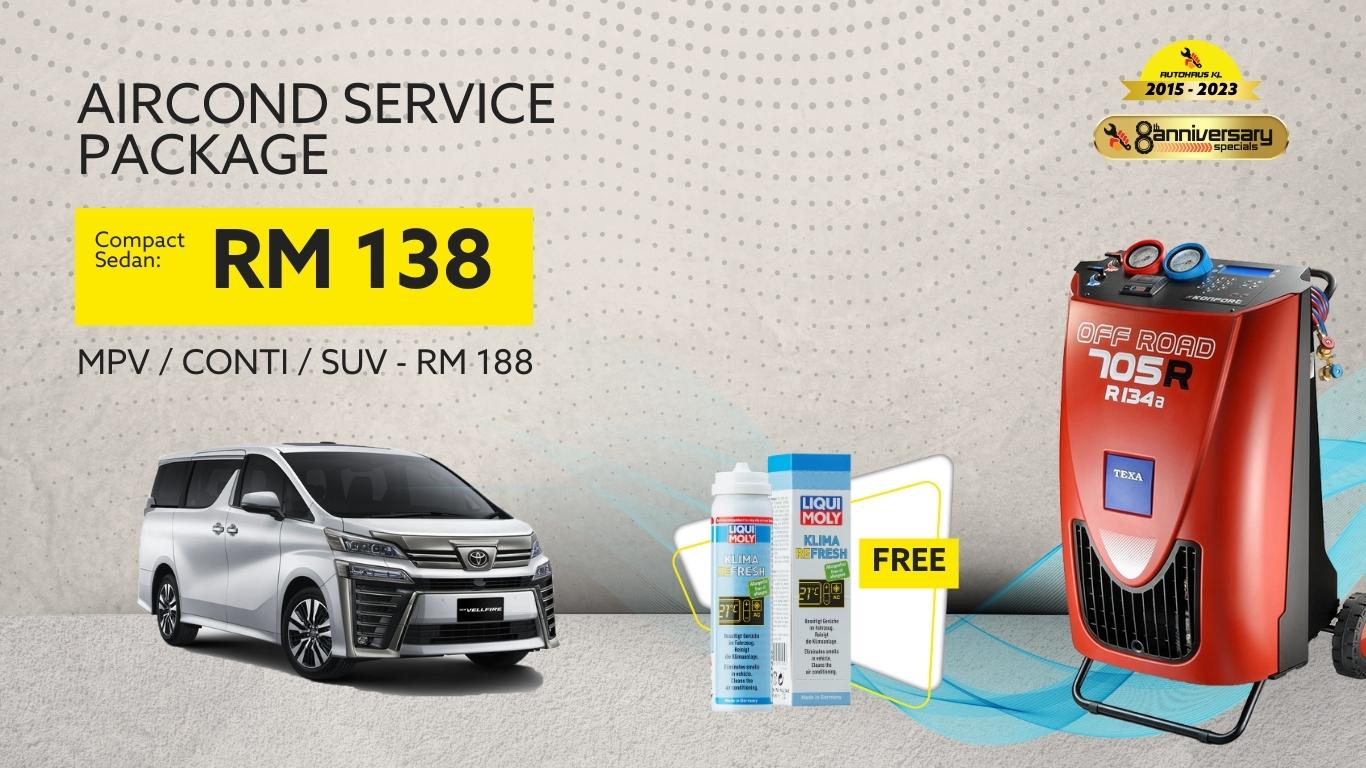 AIR CONDITIONING SERVICES
Get FREE Klima Refresh with air-conditioning services
PROMOTIONAL PACKAGES:
SEDAN/COMPACT CAR
RM138 RMxx
MPV/SUV/CONTINENTAL CAR
RM188 RMxxx
*Flushing service additional RM35
FREE 30 POINT SAFETY CHECK
For optimum driving safety and comfort. Our complimentary service by our experts.
VISUAL AND ROAD TEST
1. Engine & Transmission (Visual & Performance)
2. Braking, Ride Quality, Noises.
3. Steering – Wheel Straight, Pull.
TIRES & WHEELS
4. All 4 Tires for pressures and tread.
5. Front Tire – Right and Left.
6. Back Tire – Right and Left.
UNDER HOOD
7. Drive Belts.
8. Coolant Hoses.
9. Timing Belt / Chain.
10. Brake Fluid.
11. Power Steering Fluid.
12. Transmission Fluid.
13. Transfer Case (AWD).
14. Differential(s).
15. Washer Fluid.
BRAKES SYSTEM
16. Front Brakes.
17. Rear Brakes.
18. Emergency Brakes.
ELECTRICAL CHECK
19. Wiper / Washer Operation.
20. Exterior Lights.
21. Headlight Lenses
SERVICE HISTORY
22. Oil Change (5k – 10K Km Interval)
23. Major Service (30K Km Service Interval)
24. Spark Plugs (Condition)
25. Tire Rotation (10K Km Interval)
26. Brake Fluid ( Condition check)
27. Coolant ( Condition check)
28. Cabin Filter (Condition check)
29. Transmission Service (40k Km Service Interval)
30. Timing Belt (varies)
HOW IT WORKS
Step by step procedure to complete your service with us
2
SELECT SERVICE
Select your required service at service reception or ask for full checkup. Special promotions available during MERDEKA BONANZA 2023.
3
PAYMENT
The discount rate has been applied automatically. Payment via Cash, Bank Transfer or Credit Card.
4
COMPLETE!
Submit your good experience with us via Google location review or Facebook page review.